In terms of personal style, your thirties are likely to be the most stylish decade you will ever be in. This is a time when timeless wardrobe staples will be most appreciated. And having the right items that fit well is the most important thing for Mature fashion. At this stage, for sure you have already learned that quality is more important than quantity. So what should be part of your wardrobe essentials? Let's go ahead and find out.
Plain White Tees
Every woman must have a couple of plain white T-shirts in her wardrobe. Nothing can compare to the value of a well-chosen collection of white T-shirts. This is why having this as a part of your wardrobe staples is a must. A white t-shirt is versatile enough to pair with almost anything you have and still make it look good.
Button-Up Shirt
A clean button-up shirt is a perfect way to complete an outfit. You can wear it on its own or as an extra layer during colder seasons. Its versatility is limitless because you can wear it to the office with your favorite trousers or jeans, or even as a beach cover-up. Have a couple in different colors and designs so you can mix and match them when needed.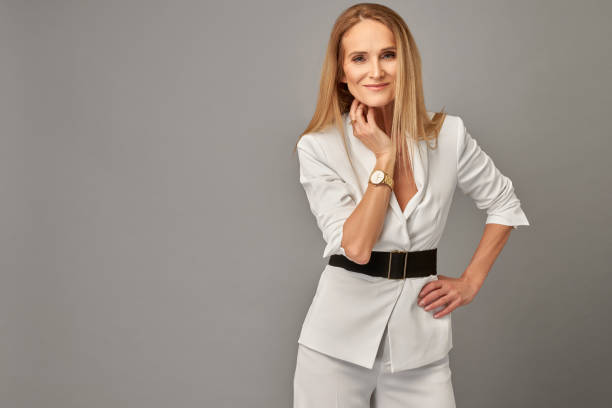 Flattering Jeans
A woman should always have a couple of pairs of denim jeans. And when it comes to buying denim, there is often a lot of trial and error involved. Think about what cuts and styles will look best on you. And when you find the right one, then stock up on those things because you will end up using them most often. A collection of denim is an important part of any woman's wardrobe.
Classic Pants/Trousers
An outfit will need a pair of black pants. So you need to have a couple in different shades that you can wear over and over again. These pants are designed to have wide, pleated, or straight legs. This is not only for a formal or office look. It can also be worn with a tiny or trendy top, perfect for a night out with friends.
At Least One Blazer
A blazer is an excellent choice for a transitional jacket. For example, you are going out with friends after work so you need to have a good amount of coverage from the office to the bar. This can be worn anywhere so make sure that you have at least one blazer in your wardrobe just in case you need it.
Dressing up as a woman should not be complicated. As long as you know what looks good on you and you are confident with your style, then you can never go wrong. You don't have to over-style when you are in your 30s. Keep it simple and clean and make sure that you wear timeless clothing pieces.